A Special Christmas Gift for My Readers:
25% off Coupon Code for iCaughtSanta.com
Just Use the Code "irishgirl" at Checkout!

iCaughtSanta is also on iTunes and is iPhone Compatible, You can Check it Out Here.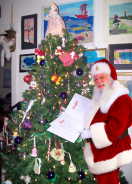 iCaughtSanta.com is the perfect gift for young or old and the perfect way to usher in the holiday season. Prove your devotion to the spirit of Christmas this season with a special photo from iCaughtSanta.com. We did it and we love it!

Can you imagine the look of wonder and surprise on Christmas morning when your children see a picture or video of Santa in their very own home! A santa photo or video from iCaughtSanta.com is all the proof your little one needs to reassure their faith that Santa Claus is real and looking out for them all year through! That is right, Santa is not only real, but was actually "caught in the act" by iCaughtSanta.com and your little one can see him in your very own home.

Catch Santa Now by Clicking Here.

Santa Claus, also known as Saint Nicholas, Father Christmas, Kris Kringle or simply "Santa" is REAL. A Santa picture or Santa video from iCaughtSanta.com is the perfect gift for any child or adult who needs their faith renewed in Christmas.

In 3 simple steps, iCaughtSanta.com can help you turn a typical Christmas morning into something spectacular!

View all Santa Poses Here!

Want Santa by the Christmas tree? Coming down the chimney? Eating milk and cookies? Sleeping on the sofa? Stealing a kiss from Mommy? For less than $10 anyone can bring back the wonder of Christmas and be a hero to children by catching Santa "in the act."

There will be multiple winners for this contest so don't be discouraged if there are a lot of entries. Winners will be contacted before Christmas.
Win Your FREE Santa Photo
from DJ6ual and iCaughtSanta.com
NOW by Leaving a COMMENT
Tell Us Your Favorite Santa Pose
in Your Comment Below!

Let Us Know Where You Shared Our Blog for Additional Entries to WIN!
Contest Rules:
1. Use a VALID e-mail address.
A. Winners will be contacted by e-mail three times before prize will be awarded to a different contestant.
B. E-Mail will be kept Private and will not be Shared or Sold.
2. NAME Field must be completed, but you do not have to use your real name or screenname. Winners will be contacted Privately by e-mail for mailing instructions.
3. Contest will be OPEN for an undetermined amount of time. You will no the contest is closed when a message is added at the bottom of this page.
4. If you are viewing this contest on a blog other then DJ6ual: An Irish Girl's Blog please go to http://dj6ual.viviti.com/blog to enter.
5. WEBSITE field can be ANYTHING you want, or you can leave it blank.
6. Winners are chosen at random. People who promote this contest may get additional entries improving their chances of winning.

Be sure to use the tools in your top right hand corner of this blog to share and promote this contest. Feel free to let us know you shared this contest with others in your comment below to add additional entries and strengthen your chances of winning!
Don't Forget to
LEAVE A COMMENT
Tell Us Your Favorite Santa Pose
in Your Comment
Below for Your Chance to
WIN a FREE Santa Photo!
Let Us Know Where You Shared Our Blog for Additional Entries to WIN!

Also Help Spread the Word About iCaughtSanta.com to WIN a FREE iPad!

If you are a Blogger and would like to do a iCaughtSanta.com and CatchACharacter.com Santa Photo Review and Giveaway please contact me at dj6ual@gmail.com using the subject line "Christmas Contest Blog". Make sure you include a link to your blog and your name.

Check Out the iCaughtSanta.com Press Release Here.
Check Out More iCaughtSanta.com in the Media Here.
I received one or more of the products mentioned above for free using Tomoson.com. Regardless, I only recommend products or services I use personally and believe will be good for my readers. I am disclosing this in accordance with the Federal Trade Commissions 16 CFR, Part 255 Guides Concerning the Use of Endorsements and Testimonials in Advertising. Tomoson Product review & giveaway Disclosure.