Please Check Out
Plentiful Pantry Inc.
on Facebook!
I Love Cheesecake!!!
Who Doesn't???
What could be better then a rich a creamy cheesecake? No Bake Key Lime Cheesecake Bars from Plentiful Pantry Inc. is just a little Cream Cheese, Butter and Water that like magic can turn any meal into an amazing meal in minutes! This no bake Key lime cheesecake bar is easy to make and has a light tart filling on a chocolate cookie crust that tastes like you spent all day on it. It is a special family treat that tastes like a cloud sent from heaven.

Having Multiple Sclerosis (MS) I am not able to cook and serve the foods and desserts from scratch anymore without a lot of effort. It has just become to difficult to keep up with all the treats and fun snacks I used to make. The No Bake Key Lime Cheesecake Bars from Plentiful Pantry Inc. makes me feel like I can still do something special for my kids without all the effort it takes to make most of their favorite things. The No Bake Key Lime Cheesecake Bars from Plentiful Pantry Inc. is sure to become a staple around our house. Most people use a square pan and just cut these into bars and that is just fine but I find they work great as a traditional cheesecake shape as well!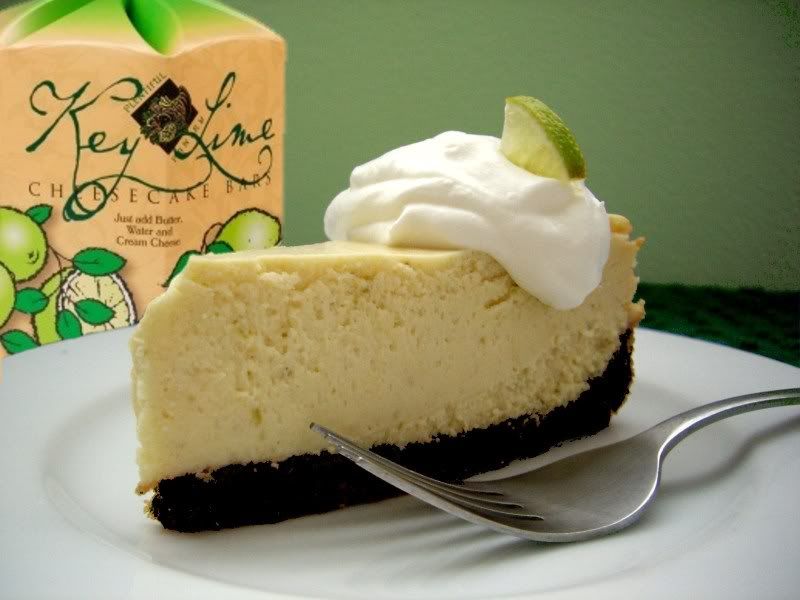 Plentiful Pantry Inc.'s Key Lime Cheesecake Bars includes an Oreo cookie crust that you mix with melted butter and then the cheesecake filling is just as easy to make combining hot water and two packages of cream cheese (light cream cheese is also fine). After a little over an hour chilling in the refrigerator, you have a yummy dessert ready to serve!

To purchase the new Key Lime Cheesecake Bars for only $8.00 per dessert mix or to view the entire selection of dessert mixes and food offerings you are invited to visit the Plentiful Panty Inc. website.
Win Your FREE GIFT
from DJ6ual and Plentiful Pantry Inc.
NOW by Leaving a COMMENT Below!
Contest Rules:
1. Use a VALID e-mail address.
A. Winners will be contacted by e-mail three times before prize will be awarded to a different contestant.
B. E-Mail will be kept Private and will not be Shared or Sold.
2. NAME Field must be completed, but you do not have to use your real name or screenname. Winners will be contacted Privately by e-mail for mailing instructions.
3. Contest will be OPEN for an undetermined amount of time, unless otherwise noted. You will know the contest is closed when a message is added at the bottom of this page.
4. If you are viewing this contest on a blog other then DJ6ual: An Irish Girl's Blog please go to http://dj6ual.viviti.com/blog to enter. You can use the "Search" Feature if you are having trouble finding the contest.
5. WEBSITE field can be ANYTHING you want, or you can leave it blank.
6. Winners are chosen at random. People who promote this contest may get additional entries improving their chances of winning. Please include a note about any promotion you might do in your comments below.
7. Contest comments are posted immediately unless a message stating otherwise appears. If you are having trouble posting a comment please clear your cache and refresh the page then try again.
8. There is no limit to how many items you can enter to win or to how many items you can be eligible to win at DJ6ual: An Irish Girl's Blog. Please feel free to enter all the giveaways on the site, new things are added all the time.
9. If the giveaway includes a products Facebook or Twitter page you may be required to "Like" or "Follow" it to be eligible to win. Please do your best to comply with this request if you enter.
10. If comments are not working, please clear your cache and try refreshing the page. Don't give up, without a comment, you cannot win!

Be sure to use the tools in your top right hand corner of this blog to share and promote this contest. Feel free to let us know you shared this contest with others in your comment below to add additional entries and strengthen your chances of winning!
Don't Forget to
LEAVE A COMMENT
Below for Your Chance to
WIN a FREE GIFT!


I received one or more of the products mentioned above for free using Tomoson.com created by WebBizIdeas a Minneapolis SEO and Web Design firm. Regardless, I only recommend products or services I use personally and believe will be good for my readers. I am disclosing this in accordance with the Federal Trade Commissions 16 CFR, Part 255 Guides Concerning the Use of Endorsements and Testimonials in Advertising. Tomoson Product review & giveaway Disclosure.