Neatnik Saucer
Keeps Baby's Food & Toys Off the Floor While Dining Out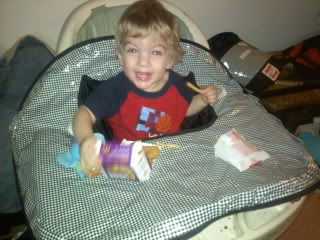 Neatnik Saucer® is a patented, mom-invented product that keeps food and toys off the floor and covers everything within baby's reach while dining in a restaurant. It's an integrated high chair liner, placemat and germ barrier that works with restaurant high chairs.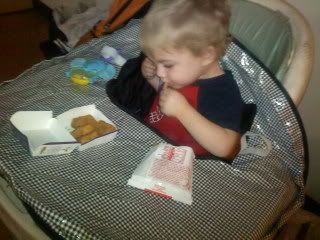 My grandson loves his so much he uses it at home and out to eat. It keeps things off the floor and makes clean up a breeze. In fact this Neatnik Saucer is so cool my daughter swooped it up when it arrived and took it home with her without letting me know so I wouldn't ask for it back! She uses it everyday!


With Neatnik Saucer in place, Mom can relax knowing that dirty high chairs and tables are no longer a health risk. The sturdy rim and toy fasteners keep food and playthings off the ground, eliminating parent frustration and embarrassment over spills and dropped toys. High chair straps fit through openings in the seat liner and should always be used to secure baby in the seat.


My grandson hates to sit still but with the Neatnik Saucer my sweet little man, Gauge, stays seated because he has plenty of entertainment. No one hates more then to go out for dinner and hear a crying baby. The Neatnik Saucer stops that by keeping your little one busy, clean, and happy.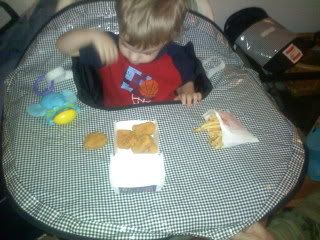 Stylish and safe, Neatnik Saucer is available in a variety of water-resistant fabrics that are easily cleaned with disinfectant baby wipes or soap and water. It measures 28 inches in diameter to define baby's space at the table, yet collapses easily for storage in the matching 12-inch-square carry bag with pockets for essentials.


It also seems to work just as well for small children as it does for older kids. My daughter has used it while babysitting children under the age of one up to kids over the age of two. If the child fits into the high chair they will fit the Neatnik Saucer.

With a suggested retail price of $33, Neatnik Saucer is recommended for ages 6 months to three years. The product fits all standard restaurant high chairs and some boosters and chairs intended for home use. It is available for purchase online and at specialty stores across North America.

I wish I had these when my kids were young. I think the Neatnik Saucer would make the perfect unique and useful baby shower gift. The Neatnik Saucer is convenient, safe, and very well made. I want to recommend it to everyone.
Win Your FREE GIFT
from DJ6ual and Neatnik Saucer
NOW by Leaving a COMMENT Below!
Contest Rules:
1. Use a VALID e-mail address.
A. Winners will be contacted by e-mail three times before prize will be awarded to a different contestant.
B. E-Mail will be kept Private and will not be Shared or Sold.
2. NAME Field must be completed, but you do not have to use your real name or screenname. Winners will be contacted Privately by e-mail for mailing instructions.
3. Contest will be OPEN for an undetermined amount of time. You will no the contest is closed when a message is added at the bottom of this page.
4. If you are viewing this contest on a blog other then DJ6ual: An Irish Girl's Blog please go to http://dj6ual.viviti.com/blog to enter.
5. WEBSITE field can be ANYTHING you want, or you can leave it blank.
6. Winners are chosen at random. People who promote this contest may get additional entries improving their chances of winning.

Be sure to use the tools in your top right hand corner of this blog to share and promote this contest. Feel free to let us know you shared this contest with others in your comment below to add additional entries and strengthen your chances of winning!
For Additional Entries o WIN Your FREE GIFT "Like" Neatnik Saucer on Facebook!

Don't Forget to
LEAVE A COMMENT
Below for Your Chance to
WIN a FREE GIFT!
I received one or more of the products mentioned above for free using Tomoson.com and the Tomoson weekly featured sponsor Favorite Wigs - Shop Name Brand Wigs at Low Prices! Large Wig Selection of Forever Young Wigs, and other Quality Wigs. Regardless, I only recommend products or services I use personally and believe will be good for my readers. I am disclosing this in accordance with the Federal Trade Commissions 16 CFR, Part 255 Guides Concerning the Use of Endorsements and Testimonials in Advertising. Tomoson Product review & giveaway Disclosure.