Kakadu Pet Review and Giveaway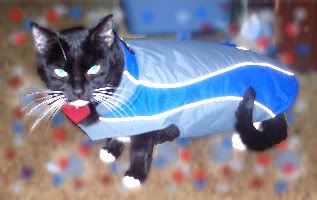 Another day, another adventure... Just because the temperature drops, your active furry mate doesn't want to stop wandering and explore the outdoors. This trendy nylon coat with fleece lining will keep any pooch, bunny, or kitten warm during the cold autumn and winter months. Bright contemporary colors combined with a warm grey fleece and reflective piping for extra visibility will be sure to stand out. Fully adjustable velcro straps around the neck and girth make it simple to dress your pet. Machine washable for easy cleaning.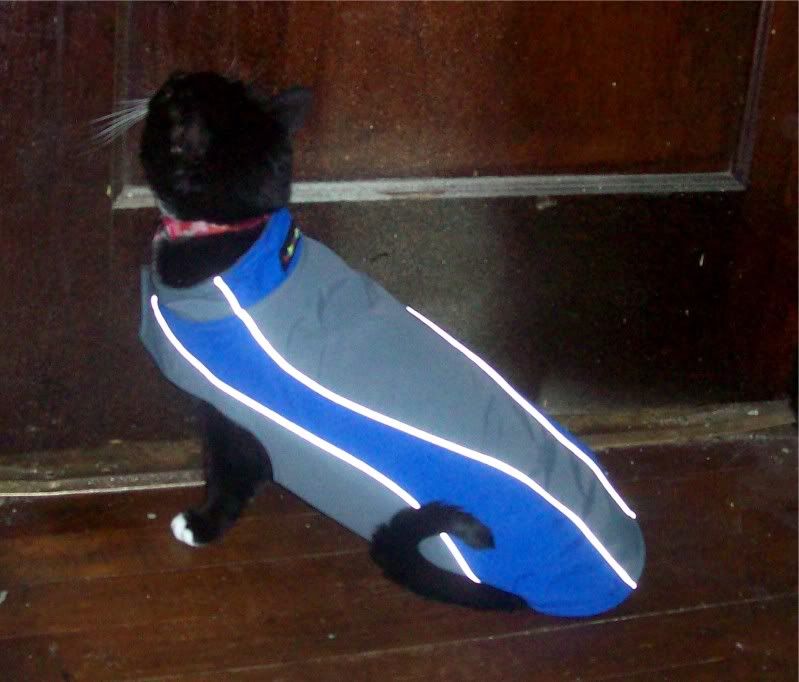 Although Kakadu Pet Products are marketed as Dog Clothes, my kitty loves the snow and always wants to be outside. The Kakadu Pet Coat kept sweet little BurnOut cozy and warm while she frolicked in the cold. I would recommend Kakadu Pet Products to all my readers with pets of any kind. Let your furry friends get out and play this chilly holiday with Kakadu Pet Products.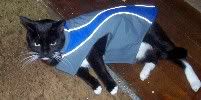 * Explorer nylon coat with fleece lining featuring reflective piping for high visibility will keep your pet warm during the cold fall and winter months. Easy to put on with fully adjustable velcro straps.
* Sporty colors with grey base fleece design
* Available in 6 sizes to fit extra small to extra large breeds such as a Chihuahua through to a Great Dane
* Shell is 100% Nylon with 100% Polyester Fleece lining



Available Sizes: (To find the best fit, measure your pet from the base of the neck to the base of the tail.)

* XXS - Length measures 10" and best suited to extra small breeds such Toy Poodles and Chihuahuas
* XS - Length measures 14" and best suited for small breeds such as Maltese, Shih Tzus and Yorkshire Terriers.

* S - Length measures 18" and best suited for small to medium breeds such as Cocker Spaniel, Boston Terriers and Bulldogs.
* M - Length measures 22" and best suited for medium breeds such as Border Collies, Dalmatians and Australian Cattle dogs.
* L - Length measures 26" and best suited for large breeds such as Labradors, Retrievers and Dobermans.
* XL - Length measures 30" and best suited for extra large breeds such as Great Danes and Mastiffs.
Win Your FREE GIFT
from DJ6ual and Kakadu Pet Explorer Nylon Fleece
NOW by Leaving a COMMENT Below!

Don't Forget to Follow Kakadu Pet on
Twitter and Facebook
and Tell Me Your Favorite Kakadu Pet Product
in the Comments Below!
Contest Rules:
1. Use a VALID e-mail address.
A. Winners will be contacted by e-mail three times before prize will be awarded to a different contestant.
B. E-Mail will be kept Private and will not be Shared or Sold.
2. NAME Field must be completed, but you do not have to use your real name or screenname. Winners will be contacted Privately by e-mail for mailing instructions.
3. Contest will be OPEN for an undetermined amount of time. You will no the contest is closed when a message is added at the bottom of this page.
4. If you are viewing this contest on a blog other then DJ6ual: An Irish Girl's Blog please go to http://dj6ual.viviti.com/blog to enter.
5. WEBSITE field can be ANYTHING you want, or you can leave it blank.
6. Winners are chosen at random. People who promote this contest may get additional entries improving their chances of winning.
7. Follow Kakadu Pet on Facebook and/or Twitter for extra entries.
8. Tell us in the comments below which Kakadu Pet Product you want the most. For additional contest entries tell Kakadu Pet's Facebook your favorite item on the Kakadu Pet website.

Be sure to use the tools in your top right hand corner of this blog to share and promote this contest. Feel free to let us know you shared this contest with others in your comment below to add additional entries and strengthen your chances of winning!
Don't Forget to
LEAVE A COMMENT
Below for Your Chance to
WIN a FREE GIFT!

Don't Forget to Follow Kakadu Pet on
Twitter and Facebook
and Tell Me Your Favorite Kakadu Pet Product
in the Comments Below!


I received one or more of the products mentioned above for free using Tomoson.com. Regardless, I only recommend products or services I use personally and believe will be good for my readers. I am disclosing this in accordance with the Federal Trade Commissions 16 CFR, Part 255 Guides Concerning the Use of Endorsements and Testimonials in Advertising. Tomoson Product review & giveaway Disclosure.
This Giveaway is Now Over. Thank you to everyone who participated. Please take a moment to check out our NEW Product Reviews and Giveaways.