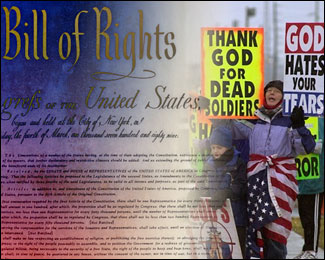 The Supreme court heard arguments Wednesday concerning the highly-publicized funeral protest case, and they appear to be set to limit free-speech by permitting lawsuits against those that offend others. The Supreme Court, including Justices Anthony M. Kennedy and Stephen G. Breyer, sound ready to rule in favor of this new limit. The Los Angeles Times reports:
Kennedy said "certain harassing conduct" was not always protected as free speech. "Torts and crimes are committed with words all the time," he said, referring to legal wrongs that result in lawsuits. "The First Amendment doesn't stop state tort law in appropriate circumstances," Breyer commented later.

Though the case is about funeral protests, Breyer said the court's ruling will have an impact on the Internet, since it tests whether personal attacks can lead to lawsuits.
This mirrors regulations proposed in H.R. 1966 which appears to have stalled in congress. This bill included vague and difficult to define terms allowing citizens to be sued for offending people online. Ars Technica covered the controversy:
HR 1966 was introduced in April by US Representative Linda Sanchez (D-CA) and it's supported by 14 other members of Congress. According to the text, individuals who bully others via any electronic means could face fines, two years in prison, or both. This, of course, could include those nasty text messages you sent to your ex on Saturday night, the questionable e-mail you sent to your brother, or those forum posts you made in which you called for someone who liked the new Star Trek movie to jump off a building.
This means that if legislation fails in congress, it could be forced through by the Supreme Court. Justice Breyer himself stated that this ruling would have a direct effect on the internet. In a very clear case of "legislating from the bench", our government is able to push through limits on our freedoms using the very court created to protect them.
Fresh food that lasts from eFoods Direct (Ad)
This legislation didn't stall in the UK where draconian equality and politically correct regulations have been active for several years. These regulations allow citizens to sue others for any and every possible offense even if it was only perceived by the plaintiff. These rules have been particularly difficult on employers, reports Mail Online:
The legislation, championed by Labour's deputy leader Harriet Harman, introduces a bewildering range of rights which allow staff to sue for almost any perceived offence they receive in the workplace.

It creates the controversial legal concept of 'third party harassment', under which workers will be able to sue over jokes and banter they find offensive – even if the comments are aimed at someone else and they weren't there at the time the comments were made.
These regulations, and others like them, have crippled their nation's ability to prosecute and deport illegal immigrants. Police work in fear of enforcing immigration laws because they don't want to appear racist. The UK has thousands of unchecked illegal immigrants free of prosecution while their police stand by with their hands tied. Ryan Kisinel of Mail Online wrote, "Police fear asking questions about their nationality because they will be hung out to dry by politically correct regulations."